AUTOMATING THE LARGEST OF DOORS WITH THE SMALLEST OF FUSS
The Axess® Pro Series 3100 range provides innovative features for the demanding world of industrial shutter and roll up door automation. With powerful inverter driven motor options, plus a scalable suite of logic and safety options, this combination of strength and smarts is an evolutionary step forward.
The Axess® Pro Series 3100 range is suitable for both roller shutters and roll up doors up to 36m2 in size. These 240V units require only a standard power point for installation, but deliver 3-phase power, reliability and speed control through a custom designed inverter. Controlled either by a simple manual console, or the sophisticated logic control system with LCD screen, integrated time clock and TrioCode™128 technology, all units feature a Service Indicator to advise when a door service is due.
POWERFUL MOTOR WITH SOFT START/STOP
A powerful 3-phase, inverter driven motor means this opener is reliable, quiet, offers soft start/stop operation, and backed by our 5-year warranty.
LOGIC CONTROLS WITH LCD SCREEN OPTION
The optional integrated logic control system with LCD screen provides scalable functionality, allowing the operation of the opener to be customised specifically to the site's needs.
QUIET, HEAVY DUTY GEARBOX
The high stepdown ratio gearing, immersed in a breatherless oil bath inside the cast aluminium gearbox, provides power and reliability with minimal noise.
OPTION OF SECURE & RELIABLE TRANSMITTERS
The TrioCode™128 transmitter system ensures secure and reliable home access. It transmits on three frequencies to defeat radio interference and uses a 128-bit encryption protocol (with trillions upon trillions of random codes*) for the ultimate in security. Additional Logic Control Required.
*340,282,366,920,938,463,463,374,607,431,768,211,456 codes.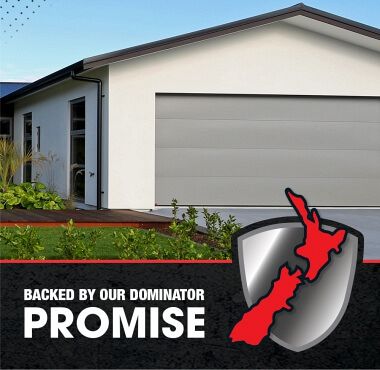 Optional Logic Control System
Features LCD screen, customisable menu system, service indicator, 24-hour clock, stores 511 TrioCode™ transmitter codes and integrates additional inputs. Easy plug in.
Interfaces with Axess® Pro series products.
Includes 2x TrioCode™128 transmitters.
Optional Lockable Control Box
Logic control console is mounted inside a sturdy enclosure with keyed lockout. Features separate Open, Close and Emergency Stop buttons. Allows Auto, Manual and Off operation.
Warranty
It's important to have peace of mind, reliability and security when you make an industrial purchase.
This Dominator Axess Pro 3100 Series Shutter Motor comes with a 5-year, 10,000 cycle warranty.
*Terms & Conditions Apply, Regular Servicing Required.