Powerhouse Performance for Demanding Applications
If you need to power a very large rolling door or live in a high wind area, the Dominator HiroTM GDO-12 is the ideal choice.
Hiro's heavy duty motor delivers extraordinary power and its compact design allows it to be used in tight spaces within your garage or shed.
HEAVY DUTY POWER
Designed to operate extra tall, extra wide rolling doors or garage doors in high wind areas.
ENERGY EFFICIENCY
Led lighting technology combined with sub 1W electric consumption on standby mode#.
SMOOTH OPERATION
Our DC motor with Soft Start/Soft stop feature reduces stress on the door and opener for longer life and makes for quieter operation.
MULTIPLE CONTROL OPTIONS
Standard features include 1 wall button and 2 premium remotes featuring our patented TrioCodeTM128 technology for secure and reliable home access.
#powerhead only, excludes accessories
The Dominator Hiro is not only the slimmest and most powerful opener in the range, it paves the way in control and connectivity delivering smart phone control in light commercial applications (as an optional upgrade).
If you need to operate a very large roller door or a wind-locked door, or have a site with low side room requirement, HiroTM is the opener for you.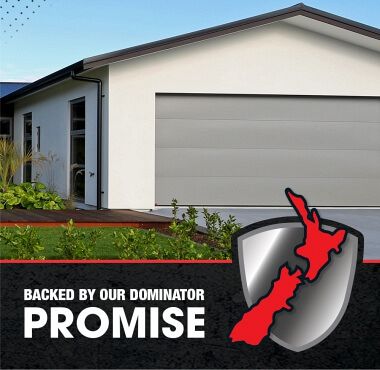 Key Features
2 Year, 10,000 Cycle Warranty
1400 Short term peak force to reliably operate large doors up to 28m2∗, + wind-locked doors up to 22m2∗∗
Slim fit design (35mm only from the edge of the curtain to the edge of the bracket)
Variable opening speed
Smart phone compatible
Optional slide-on or wall mount battery back up
Large removable forks suits most drum wheels
Courtesy LED light
Can operate with Tri-Tran+ frequency if required
(Will operate with TrioCode128 AND Tri-Tran+ together.)
What is Tri-Tran+™
Tri-Tran™128 is a revolutionary new coding system that provides enhanced reliability and security by using three frequencies to overcome interference issues.
WHY DO I NEED IT?
Increasingly our environment is filled with wireless devices such as cordless headphones, wireless sound systems and more, many of which operate on the same frequencies as door and gate openers. Frustratingly, these devices can jam out your door or gate opener's receiver, and the offending device may not even be in your building, it could be over 200 metres away.
TrioCode™ overcomes this challenge by simultaneously transmitting on three different frequencies. Even if two frequencies are jammed, the Tri-Tran™ transmitter will still operate your door. Tri-Tran™ is your insurance that your garage door will continue to operate without interference for years to come, no matter what new technology is introduced to the surrounding area.