The Roller Garage Door is designed with security, style and durability in mind. The highest quality of materials means that your Roller Door will be operating smoothly for years to come.
Our Rolling Garage Doors are leading the way with a fine ribbed patter that compliments virtually any house style, be it contemporary or traditional.
The Dominator Series A Roller Door is made to order in Zincalume or Pre-painted steel in the following size range.
SIZE RANGE
Available in sizes from 1300mm to 3200mm in height and 1250mm to 3200mm in width.
SMOOTH OPERATION
Dominator Roller Door garage doors will provide you with, smooth, greaseless operation. Features include:
Nylofelt® running strips to provide greaseless operation.
Roll-A-Guides and mini groove top sheet to help reduce chances of paint scuffing during door operation.
Rubber coated guide stops to prevent metal on metal contact.
Double guide block and roller for smooth, quiet operation.
SAFE
Safety should be a key consideration when selecting your garage door, as door failures can cause injury.
The following safety features have been built into your Dominator Roller Door:
Steel door stops, not plastic like some brands.
Locking bar end covers to prevent injury to fingers.
EASY OPERATION
Your Dominator sectional door will continue to be easy to open and close, with features such as:
• Ball bearing wheels with two-piece roll-formed track, allowing the door to run easily and smoothly during opening and closing. 
• Full sized hinges reduce stress loading for consistent operation.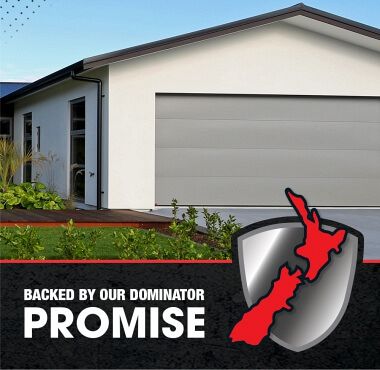 Colours
Available in Zincalume and an extensive range of Pre-painted colour options.
The colours in this gallery are intended as a guide only. If colour selection is critical, please request a steel colour sample from your Dominator Sales Person. Powder coating is also an attractive option if your preferred colour is not shown. Please make contact with your Dominator dealer for advice and samples.
Headroom
Doors are provided for standard headroom (350mm) situations, unless otherwise specified.
Rear torsion and Intermediate Low Headroom systems are available as optional extras. Please discuss Low Headroom requirements with your Dominator Sales Person.
Recommended Clearance Requirements:
Recommended Clearance Requirements:
• Standard Headroom – 400mm
• Sideroom – 80mm
• Sideroom with opener – 135mm
• Backspace – 450mm
Weather Protection
The garage today is used to store many different valuable objects, so weather protection is an important feature of any garage door. 
Dominator Roller Doors feature:
Pre-painted steel, to stand up to the harsh New Zealand climate.
The weatherseal with deep cushioning helps restrict entry of water and leaves. On slightly uneven floors it reduces the gap for a better fit.
Note: By design roller doors need clearance in their guides to allow them to roll up and down freely. In situations where doors are exposed to prevailing winds, some rattling of the door curtain within the guides may occur. Talk to your Dominator Dealer for further advice if your garage is next to bedrooms or living areas.
Durability
Your Dominator Roller Door will continue to operate like new, with reliable features such as: 
Springs designed to exceed the Aust/NZ Standard for garage doors – 20,000 cycles.
Ribbed steel brackets manufactured from thicker gauge steel guarantees that the bracket is able to stand up to years of operation.
Pressed 'square-line' profile helps reduce the deflection in the door curtain caused by wind pressure.
Security
The Dominator Roller Door includes additional features that help prevent unwanted intrusions into the garage, such as:
Double bar locking action.
New lock barrel design is even more sturdy and highly pick resistant.
Stylishly designed, die cast centre lift lock located at waist height offers extra strength and security to deter would-be intruders.
Double guide blocks reinforce the bottom rail to limit the chances of forced entry from underneath the door.
Warranty
It's important to have peace of mind when you make a purchase, that's why your Dominator sectional door comes with the following warranty:
5 years for steel door curtain & associated labour, 1 year for surface coating, locking mechanism & all other components & associated labour.
Industrial/Commercial use – 1 year for all components & labour.